All About The Jacksonville Zoo And Gardens
The Jacksonville Zoo is one of the best activities for children, especially as a fun and educational reward after going to the dentist!
The zoo offers 100 acres of award-winning gardens and exhibits. It's a zoo that you can go to without worrying about the animals being mistreated. The Jacksonville Zoo is one of 7 in the USA that has an internal animal wellness team to ensure each animal is properly looked after [1].
Still not convinced the Jacksonville Zoo and Gardens is a good place to take your children? Here are some of the reasons it should be at the top of your list.
Reasons To Take Your Kids To The Jacksonville Zoo and Gardens:
1. So Much To Do and See
One of the standout things about this particular zoo is the fact that there is so much to do and see. As mentioned, you get to experience a whopping 100 acres of exhibits and gardens. This alone can give you an action-packed day where everyone will be having fun.
2. Commitment To Conservation
A lot of people worry about zoos and their potential mistreatment of animals. This isn't something you have to worry about when it comes to the Jacksonville Zoo and Gardens. As mentioned briefly above, they are committed to the wellness of all of the animals at the zoo. Likewise, a portion of the proceeds for each ticket goes towards a conservation mission. That way, you'll know you are supporting a zoo that truly cares.
3. Educational Programs
What better gift for your kids than the gift of education. This zoo is spectacular in its educational offerings. The zoo offers educational programs for families to help everyone learn more about the animals they are seeing and wildlife in general. These programs are full of different things including workshops and anima encounters. It will keep everyone engaged and you'll learn a lot together. You can even take a family tour if you just want some guidance while visiting the zoo.
4. 4D Theater
The zoo has a 4D theater where you can experience zoo life in a whole new way. This is an amazing experience for kids and adults alike. You will need to buy Total Experience tickets if you want to go to the 4D theater and have an immersive zoo experience.
5. Train
You can hop on the train with your family and enjoy the convenience of going from one area to the next without having to walk. However, it's even more fun just to take in the sights and sounds of the zoo while riding on the train.
6. Splash Ground
How many zoos have a splash ground? The Jacksonville Zoo and Gardens does. This splash ground is open daily from 9 am to 5 pm whenever the weather permits. This can be a great way to break up the day and cool off if it's really hot outside. Kids love to run around and enjoy the thrill of getting splashed by their friends and buckets hovering overhead.
As you can see, the Jacksonville Zoo offers a lot that makes it a great place to plan your next family adventure. With so much fun stuff to do and see, it's a must for anyone that finds themselves in the Jacksonville area.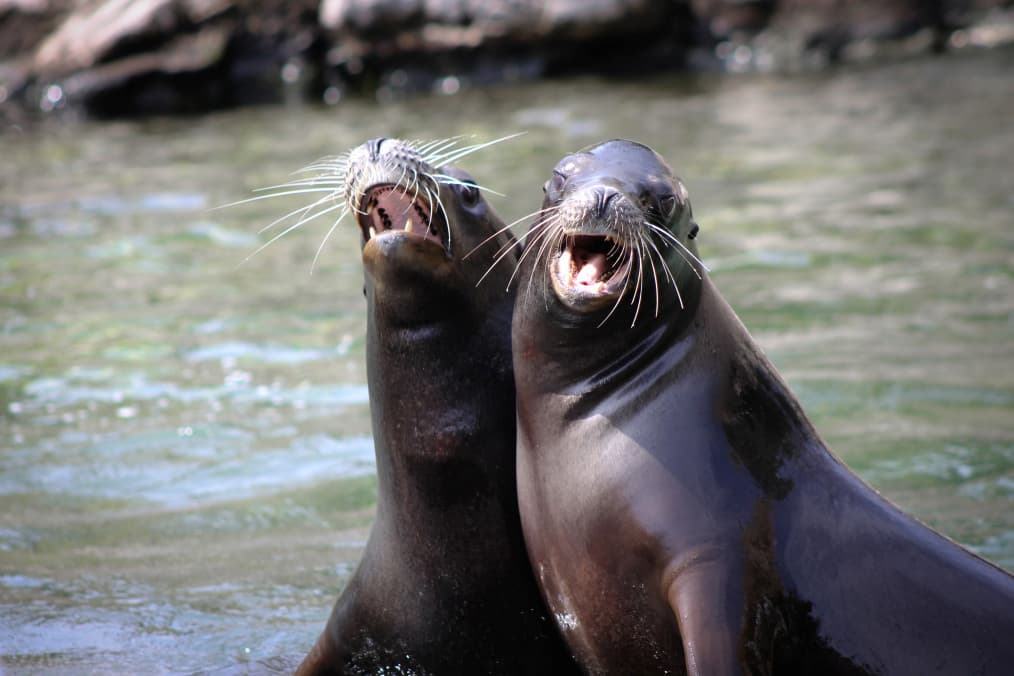 What Are The Benefits Of City Zoos?
In addition to the reasons above, there are some general benefits that come with city zoos. These benefits are important to keep in mind when deciding whether or not to visit a zoo.
1. Connect People With Nature
One of the best things about city zoos is that they help connect people with nature. In a world that is increasingly digitized, it's important to have outlets that help us connect with the natural world. Zoos provide a great opportunity to do just that. When you visit a zoo, you'll be able to see animals up close and learn about their natural habitats. This can help you feel more connected to nature and animals.
2. Educate The Public About Animals
City zoos also play an important role in educating the public about animals. While you can read about a diverse set of animals at the library, when you visit a zoo, you'll have the opportunity to learn about the different animals. This can include learning about their natural habitat, diet, and behaviors. This type of education is important for helping people understand and appreciate animals.
3. Conserve threatened And Endangered Species
City zoos also play an important role in conservation efforts. Many city zoos have programs that help threatened and endangered animals. This includes breeding programs that help increase the population of these animals. Additionally, zoos often raise awareness about threatened and endangered animals. This can help people be more conscientious about the things they do that might impact these animals.
4. Conduct Important Animal Research
City zoos also conduct important animal research. This research can help improve the lives of animals in captivity. Additionally, this research can also help improve our understanding of animal behavior. This research is important for helping improve the welfare of animals both in captivity and in the wild.
5. Provide A recreational outlet For Families
City zoos also provide a great recreational outlet for families. When you visit a zoo, you'll be able to spend time together as a family while also learning about animals. This can be a great way to bond with your family and create lasting memories.
Directions
As you can see, there are many reasons to visit the Jacksonville Zoo and Gardens. This zoo offers a lot of great things for families to do and see. Additionally, the zoo is committed to conservation and education. If you're looking for a great place to take your family, the Jacksonville Zoo and Gardens should be at the top of your list.
References:
[1] https://www.jacksonvillezoo.org/
Jacksonville Zoo And Gardens
was last modified:
July 27th, 2022
by