Dental Implants in Jacksonville, FL
Get the Best Dental Implants
Many patients who are missing teeth come to our Jacksonville office desiring a healthy and long-lasting solution for replacing their missing teeth.
In many cases, dental implants may be the best option available.
A dental implant is essentially an artificial root that is placed directly into the jaw and functions much like a natural root. The dental implant placement process is relatively easy for patients.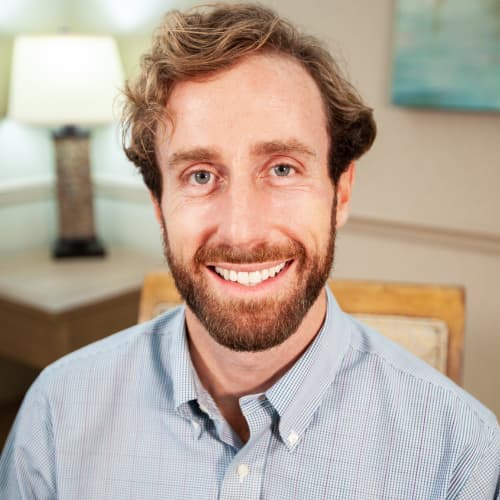 ---
Dr. MacKenzie on dental implants
---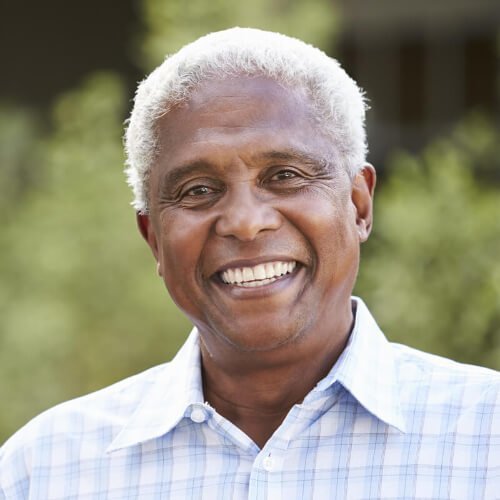 At Farnham Dentistry, we have heard over and over how patients who were worried about the procedure of placing a dental implant were surprised how simple the appointment was and how they wish they had replaced their missing teeth sooner.
People who are unable to wear dentures or partials are great candidates for dental implants. Dentures that are stabilized by implants can make all the difference in stabilizing a loose fitting denture so patients can eat and talk with confidence. Other dentures can be permanently retained by implants so a patient never has to be embarrassed about having to remove their dentures.
In order to be a good candidate for dental implants the patient should be in good health, have the proper bone structure and healthy gums. But even if you are not the perfect candidate, modern implant dentistry can often fix some of the conditions that might have prevented a patient from having a dental implant in the past.
One of these conditions was the lack of adequate bone. With the advent of great bone grafting material, often patients who were compromised because of bone loss can now be candidates for dental implants.
---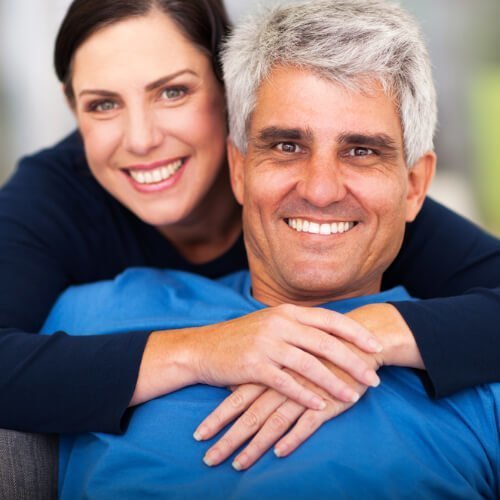 If these requirements can be met, the artificial root "the implant" can provide a secure way to replace missing teeth. Because of the artificial root, dental implants often feel more comfortable and secure than crowns or dentures.
At Farnham Dentistry, we tailor each procedure to our specific patients' needs. We take the time to study the complete oral environment before suggesting a procedure. If you need dental implants and are searching for a Jacksonville based dentist you can trust, call our dental office today to schedule your initial examination.
If you need dental implants and are searching for a local dentist in Jacksonville, schedule your initial examination today!
Benefits of our Jacksonville Dental Implants
---
Easy Cleaning
Implants can be cleaned in the same way your natural teeth are cleaned, through brushing and flossing regularly and seeing your dentist every 6 months. There is no extra upkeep for implants as compared to natural teeth.
Stability
A natural bone graft occurs to the implants after placement, so they stay securely in place, giving you the same stability as the natural surrounding teeth. Almost 95% of implants placed in the lower jaw are still functioning well after 25 years. So implants are a long term solution to your problems.

Aesthetics
Dental implants are an excellent cosmetic solution to missing teeth as they offer the same look and feel as your natural teeth.
Farnham Dentistry: The Authoritative Guide On Dental ImplantsAre you looking to fill missing gaps in your mouth? This article is a guide to dental implants.
---
5 Reasons Why You Should Replace Missing Teeth
---
According to the American College of Prosthodontics, it is estimated that at about 178 million Americans have at least one missing tooth. Additionally, nearly 40 million Americans are missing all of their teeth.
Though quite subtle at first, the effects of tooth loss can be debilitating. From misaligned teeth and gum disease to potential bone loss, there are some pretty convincing reasons why you wouldn't want to have missing teeth.
While there are a number of teeth replacement options available to you, none has been better received than dental implants. And with good reason; implants have proven themselves to be the most effective tooth replacement option.
Restoring Your Self-Confidence
---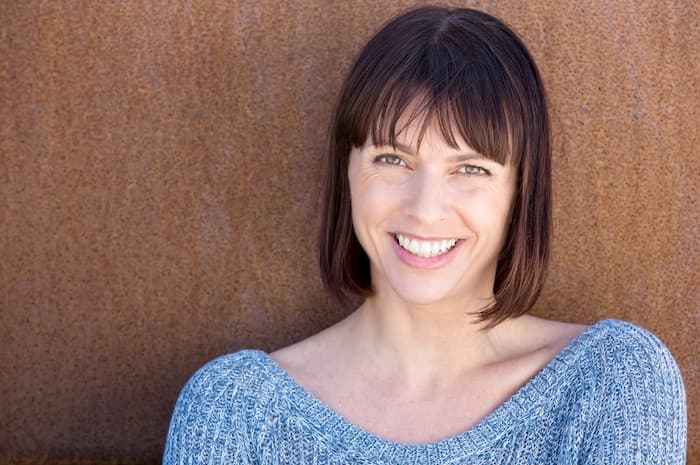 A missing tooth will always make you self-conscious about your smile, and this will have an impact on your interactions with others. Also, you might start having problems with speaking correctly in an effort to hide the gap. Additionally, you might even get embarrassed to kiss your significant other.
Preventing Opposing Teeth From Over-Erupting
---
Opposing teeth need to be in contact with each other so as to stay aligned in their arcs. When there's a gap, however, the opposite tooth might start reaching in order to fill that gap. This can result in loose teeth.
Avoiding Shifting Teeth
---
Due to the gap that a missing tooth leaves, your other adjacent teeth might start experiencing a different kind of pressure when you are chewing. As a result, they might begin to shift towards that gap in order to counteract that pressure.
Preventing Bone Loss
---
Tooth loss can cause the jawbone to start shrinking. Additionally, that spot becomes more susceptible to deterioration. All of that can eventually lead to jaw bone loss.
Reducing Risk of Gum Disease
---
A missing tooth usually causes that area to become sensitive or painful to brushing and flossing. Additionally, shifting teeth can create small and hard-to-access regions, which make it hard to brush and floss. As a result, plaque can accumulate and eventually lead to tooth decay.

Jacksonville Dental implants are a permanent solution to these potential problems. Here's what you need to know about them.
What Are Dental Implants?
---
---
They are tooth root replacements that provide a sturdy foundation for both permanent and temporary replacement teeth.
Implants are designed to match your natural teeth. As such, they are the best choice if you are looking to get an artificial tooth that looks, feels, and functions naturally.
Should I Get Dental Implants?
---
When you are looking to replace a missing tooth in Jacksonville, FL, you have three main options:
Dental implants
Removable dental appliances, such as dentures
Dental bridges
Out of the three, removable dental appliances are typically the cheapest. However, their low price comes at the cost of convenience and comfort. You will have to keep removing and replacing them in order to take care of them. Additionally, dentures have been found to affect one's sense of taste.
Bridges are a bit better. However, for traditional dental bridges to be effective, they need to have the support of neighboring teeth. Additionally, they may not last as long.
Implants, on the other hand, are not reliant on any outside factor for them to be effective. They are integrated into your jawbone, hence making them incredibly strong and stable. Additionally, they will not affect the neighboring teeth.
7 Benefits of Dental Implants
---
Choosing implants at Farnham Dentistry as your tooth replacement option offers you the following benefits:
Enhanced Comfort
---
As mentioned, implants are integrated into your bone structure, essentially making them part of your body. As such, your new tooth will not feel any different from your natural teeth.
Better Appearance
---
A keen eye can often tell when you have a bridge or a denture. Implants, however, mimic a natural tooth down to its core.
Normal Eating
---
Dentures and bridges can make you self-conscious about your chewing since you are afraid of damaging them, or worse, have your removable dentures slide out.
With teeth implants, however, you will chew just as you would with regular teeth.
Improved Speech
---
In the case of dentures, if they do not fit properly, they can cause you to slur or mumble your words. Also, missing teeth can make you talk with a lisp.
Implants ensure that your speech patterns are not negatively affected.
Better Oral Health
---
Implants do not rely on other teeth being altered so as to achieve functionality. As such, your natural teeth remain in their natural positions, thus not creating areas which may allow plaque to build up.
Self-Confidence
---
Dental implants mimic natural teeth, thus making you more comfortable with your smile. This ultimately improves your self-esteem and confidence.
Durability
---
As mentioned, implants are incredibly durable. With proper care, they might even last a lifetime.
---
Types of Dental Implants
---
Dental implants can be categorized into various groups, but we'll be taking a look at two types and analyzing their uses, strengths, and weaknesses.
Traditional Dental Implants
---
In a dental implant procedure, a Farnham Dentistry dentist typically pairs implants with dental crowns if you are looking to replace individual teeth, or implant-supported bridges if you are looking to replace multiple teeth.
A dental implant procedure in Jacksonville typically takes two surgeries. Additionally, the process might require the involvement of the following specialists:
A dental surgeon who specializes in treating teeth-support structures.
A physician who specializes in face, mouth, and jaw conditions.
A prosthodontist – designs and fits artificial teeth
An ear, nose, and throat specialist
Due to the relatively invasive nature of a dental implant procedure, you will need a comprehensive evaluation. This allows Farnham Dentistry to plan for your procedure. The assessment might include:
---
Farnham Dentistry needs to be aware of any current or prior medical conditions that you have as well as any medication/supplements that you are currently taking.
Comprehensive dental examination
---
Your Jacksonville implant dentist is also likely going to need X-rays as well as 3D images of your jaw and teeth. This allows them to craft artificial models of the same.
---
Your dentist will then customize a treatment plan based on the analysis of your jaw bone while putting into consideration the number of teeth that need to be replaced.
Dental implants are a good fit for:
---
People whose bone density is strong enough to support the implant.
People looking to restore teeth using porcelain crowns or bridges.
How Dental Implants Work
---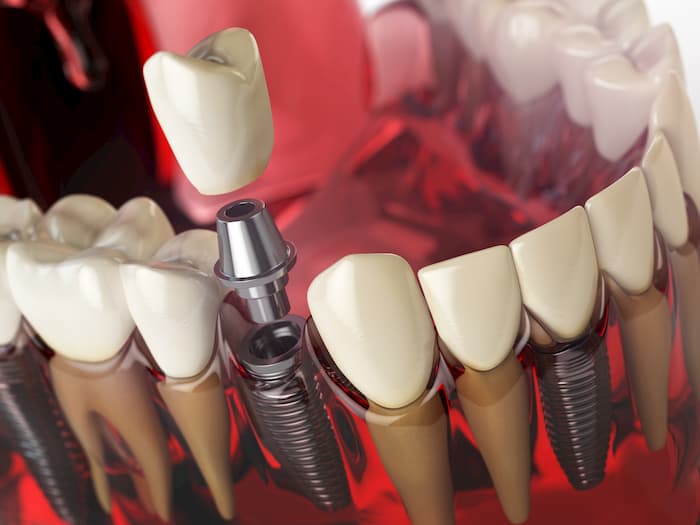 This procedure is typically done on an outpatient basis in Jacksonville, and in stages so as to allow time for healing in between surgeries.
 
The procedure involves:
Preparing the Jawbone
---
Here, the Jacksonville dental implant dentist will first remove the damaged tooth so as to evaluate the condition of your jawbone. If it is too soft, they might have to do a bone grafting procedure so as to create a stronger foundation for the implant.
Placing the Dental Implant
---
First, the dentist will create an incision to open your gum and expose the bone.
Next, they will drill a hole into the bone where they will place the implant. The implant serves as a tooth root and, therefore, will have to be drilled deep into the bone.
The dentist will then place a temporary tooth in that gap.
Waiting on Bone Growth
---
After the implant has been placed into your jawbone, osseointegration begins. Here, the jawbone starts growing around and attaching itself to the implant. This further helps in creating a secure base for your new tooth.
Placing the Abutment
---
Once osseointegration is complete, you might have to go through another dental implant surgery where the implant dentistry specialist places the abutment. An abutment is the underlying support structure of an artificial tooth. The abutment procedure is a minor outpatient surgery that only requires local anesthesia.

Here's what happens:
The dentist reopens the gum to expose the implant
They attach the abutment to the implant
They then close your gum tissue around the abutment.
Attaching Your Artificial Tooth
---
Following the placement of your abutment, you may have to wait for a few weeks to allow your gums to heal. Once it does, the dentist will then attach the prosthetic tooth.
---
Pros and Cons of Dental Implants
---
As with any procedure, there are some pros and cons that are involved.
Pros of Dental Implants
---
Implants do not depend on adjacent teeth for support like a dental bridge does. This helps protect your remaining teeth from damage.
Additionally, unlike dentures, they help you avoid bone loss since the implants replace both the tooth and its root.
Also, implants look and function like real teeth, thus ensuring you get the benefits of naturally healthy teeth.
Cons of Dental Implants
---
Even though the implant procedure is safe, there are some risks involved albeit rare. They include:
Bleeding
Infection
Sinus, nasal, or nerve injuries.
This is why it is imperative that you only get worked on by a reputable dentist experienced in periodontics. Inexperienced professionals can heighten your risk of getting complications following your procedure.
Contact Farnham Dentistry today if you're looking for the best dental implants in Jacksonville! Call us at (904) 262-2551 or click here to schedule your evaluation.
All-On-Four Dental Implants
---
If you happen to be missing a significant number of your teeth, the all-on-four implant procedure might be the better replacement tooth option for you.
This is because the all-on-four implant procedure is able to replace an entire set of teeth more efficiently than traditional implants.
This procedure is even effective for people who have extensive bone loss.
The basis of the all-on-four method is a process known as osseointegration where the implant and your jawbone are bound together so as to make the implant a permanent fixture in the mouth.
The All-On-Four implant procedure is, therefore, a good fit for:
---
People whose jawbones are not dense enough to support a large number of traditional implants.
Individuals who wear dentures and are tired of the removable appliances
Anyone requiring an entirely new set of teeth or full arch replacement
Additionally, all-on-four implants can also be a good alternative for people who do not wish to go through lengthy implant procedures where soft tissue regeneration, bone augmentation, or multiple implants are needed.
Specifically, this procedure targets people with poor bone density, thus making bone augmentation unideal.
How All-On-Four Dental Implants Work
---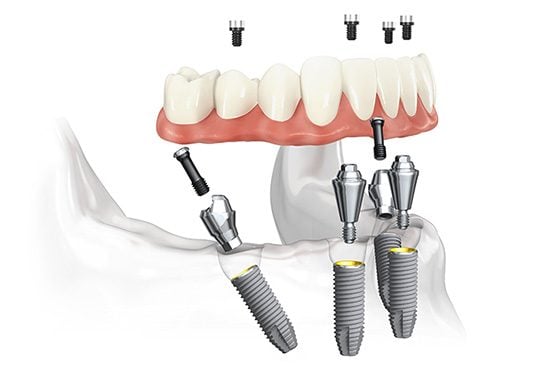 Different dentists might have different ways in which they approach this procedure.
Nonetheless, a typical procedure usually involves the following:
The dentist extracts the compromised tooth as well as the surrounding compromised tissue.
They attach two titanium implants in the front part of the jaw as that area is generally considered as having a higher concentration of atrophy-resistant bone. The dentist will also attach two other implants in the backside.
They will then fit a new bridge to the implants and adjust it for comfort.
As such, this procedure involves a set of four implants to support the tooth, hence its name – all-on-four.
This procedure can be done in a single appointment, as opposed to regular implants, which may require several trips to the dentist.
However, in a Jacksonville all-on-four dental implant procedure, the dentist utilizes a different technique to insert the implants. The implants are placed at an angle to your gum line. This allows them to provide you with maximum posterior support.
While the procedure might only take a day to complete, the bone will need a few months to heal completely. Once healed, the dentist can then embed a final prosthetic bridge, marking the end of the treatment.
Pros and Cons of All-on-Four Dental Implants
---
An all-on-four implant procedure is a very effective and efficient tooth replacement procedure when many teeth are needing to be replaced. This is because it can replace a whole set of teeth using only four implants and one surgery.
The only drawback to this procedure is that you will not get the opportunity to test your new teeth for bite, comfort, and appearance. This is because the dentist will replace all the affected teeth on the same day.
What's the Average Cost of Dental Implants in Jacksonville FL?
---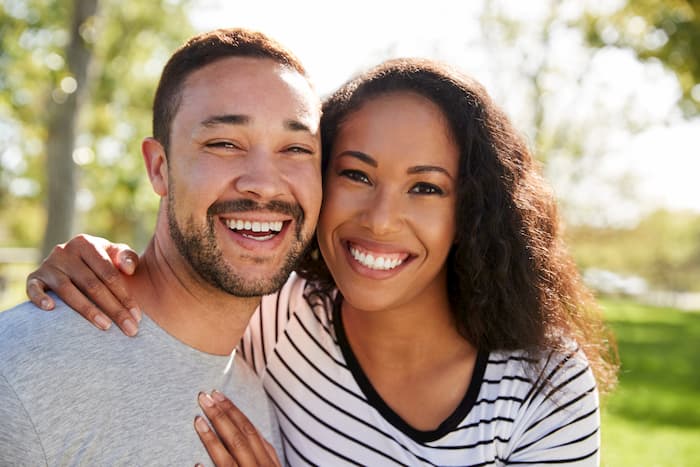 Since no two patients have the same exact needs, the cost of dental implant treatment will vary among individuals. This is because dental implants are usually tailor-made for your mouth and teeth, which is what makes them look natural.
Nonetheless, according to the New York Times, the cost of a single tooth implant using this procedure is between $3,000 and $4,500.
However, chances are that you have come across dental implants adverts that offer the procedure for much lower prices. As with anything that seems too good to be true, there's always a catch. Either the clinic offering the procedure has mediocre services, or there are some crucial parts of the procedure being left out.
As such, you will only want to consult the services of an experienced and credentialed dental periodontics expert. Their costs might be higher, but you will get high-quality services and products.
In the end, make sure you clarify with the dental practice that the price advertised will include everything you will need. It's also advised to speak with them beforehand on how they approach complications that may increase the end price.
If you're looking for the best dental implant dentists in Jacksonville, schedule an evaluation with our office at Farnham Dentistry to discuss your specific situation.
Do Dental Implants Hurt?
---
---
The implantation procedure does not hurt since you will receive local anesthesia beforehand to numb your mouth. In fact, most people consider tooth extraction to be more uncomfortable than a dental implant treatment.
You can, however, expect to feel some soreness in the treated area once the anesthesia wears off. Nevertheless, an over-the-counter painkiller such as ibuprofen should help ease your discomfort.
The effects of the procedure are so manageable that you can go back to work after the treatment if you wish to.
How Long Do Dental Implants Last?
---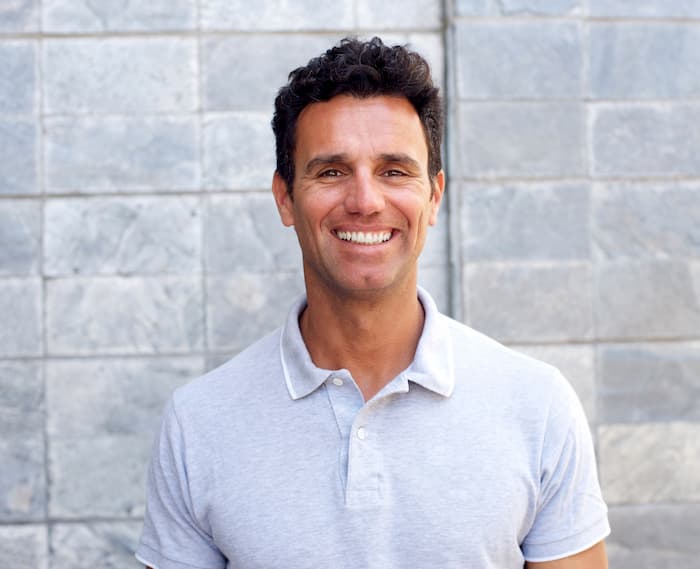 As with anything, maintenance has a lot to do with its longevity. Properly maintaining your implants through proper oral hygiene, therefore, is going to increase the longevity.
If you do everything right, you can expect your implants to serve you for up to 20 years. However, your crowns can last between 10 and 15 years before needing replacement.
Apart from improper maintenance, other factors that can be detrimental to the longevity of your implants are peri-implantitis and failed osseointegration. Peri-implantitis is a gum disease that damages the bone around your implant, thus making it loose.
Failed osseointegration is when the bone does not grow around the implant properly.
Again, this is why it's very important to only consult the services of a reputable Jacksonville professional.
Are Dental Implants Worth It?
---
If you are looking for the best permanent solution to replacing your missing tooth, teeth implants are the way to go.
Are you wondering "Where can I find the best dental implants near me?"
---
In the past, if you had missing teeth, your replacement options were either bridges or dentures. None of these options gave you much long-term comfort since you had to adjust your habits in order to accommodate them. Their ineffectiveness came from the fact that they addressed the problem superficially.
Dental implants, however, are essentially artificial tooth roots that are drilled into your jawbone. As such, they provide your artificial tooth with the necessary secure base it needs in order to look and function like a real tooth.
Are you looking to replace a tooth or fill a gap in your mouth?
Contact our office today to schedule your dental implant consultation.
What our patients are saying about us...
---
---
Listen on how simple dental implants can be!
---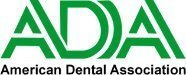 ---
Ready to get started?
Schedule Your Appointment Today!
---
(904) 262-2551
farnhamdentistry@gmail.com
11528 San Jose Blvd,
Jacksonville, FL 32223
---
Get Directions
---
Farnham Dentistry
---
(904) 262-2551
farnhamdentistry@gmail.com
11528 San Jose Blvd, Jacksonville, FL 32223
Get Directions
---
Our business hours:
| | |
| --- | --- |
| Monday | |
| Tuesday | |
| Wednesday | |
| Thursday | |
| Friday | |
Book Appointment
---
---
Dental Implants
was last modified:
December 1st, 2021
by