Watch with sound
---
Farnham Dentistry Jacksonville FL – The Best Jacksonville Dentist Office
---
---
Office Information:
---
Monday – Thursday
7:30 AM – 5:30 PM
---
Office Information:
---
Schedule Your
Appointment Today!
---
Dedicated Jacksonville Family Dentists | Serving You and Your Family
---
At Farnham Dentistry our purpose is to help you maintain the best oral health and to love your smile.
You don't have to live with..
Discomfort in your mouth or jaw, whether toothaches, overly sensitive teeth or pain caused by TMJ.
Missing, chipped, crooked, misaligned or yellow stained teeth.
As our patient, you will receive personalized care by our dentists designed to help you achieve your goal of a healthy and radiant smile that you're proud to show off.
If you're looking for a dentist that you can trust, schedule your appointment today, and let us show you why hundreds of others have already become patients for life.
---
---
Meet the Best Dentists in Jacksonville FL
---
Dr. MacKenzie Farnham
Focused on creating a stress-free environment at Farnham Dentistry through a patient-focused approach to dental care. read more..
Dr. Jacquelene Farnham
Believes that each patient's experience at Farnham Dentistry should be enjoyable no matter their age. read more..
Dentist Reviews: What our Patients Say About our Jacksonville Dental Office
---
---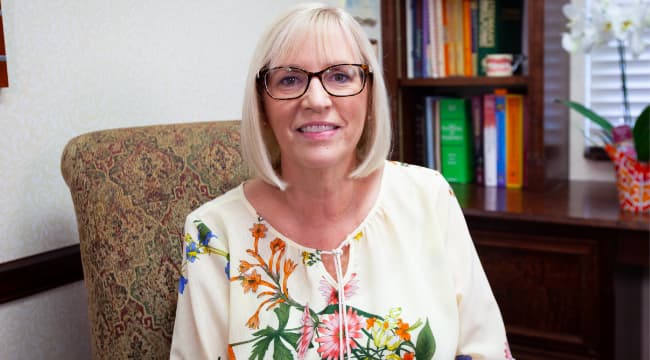 They make you really comfortable here and they're fun. Very family oriented and the hygienists are fantastic. I know Doctor MacK's up to date with what is going on in dentistry. I love him. He's meticulous, but he's a lot of fun too. He's got a great personality. He wears crazy socks and he knows 70s music, which I enjoy.
– Marsha LeDuke
Holistic Dentist Office |
Jacksonville's Multispecialty Dental Center
---
Farnham Dentistry is a multispecialty family dentist office in 32223. The vast amount of training, knowledge, and experience our Jacksonville dentists have allows us to offer you most dental services and procedures from our office.
The expertise our dentists have enables us to perform advanced dental procedures that would typically require an outside referral to another Jacksonville dental or medical office.
Farnham Dentistry's Jacksonville Dentist's expertise includes:
---
General & Family Jacksonville Dentistry:
---
As general and family dentists we are your oral healthcare partner. Through regular dental visits for you and your family we help to prevent, diagnose, and treat dental conditions. We offer comprehensive oral exams, x-rays, dental cleanings, scaling and polishing. Through regular visits we keep your teeth, mouth and gums healthy while also monitoring for any oral conditions or diseases. By catching dental problems early on, we can resolve these issues more effectively helping to limit the expense and impact on your life.
Restorative Dental Services:
---
There are few things that bring as much fulfillment in a dentist's life as restoring someone's smile. Our services are aimed to restore your optimal oral health while also maintaining or improving the aesthetics of your smile. We offer a full range of restorative dental procedures, whether you need cavities filled, cracked teeth repaired, or something more involved our office has you covered. Some of our restorative dental services include fillings, core buildups, root canals, oral surgery, periodontics, CEREC same day crowns, bridges, and dental implants.
Cosmetic Dentistry in Jacksonville FL
---
You are not your smile, but your smile or lack thereof is one of the first things that others notice about you. If you're uncomfortable with how your teeth look, you're more likely to hide your smile. This may be due to tooth discoloration, misaligned teeth, a cracked/missing tooth or for a number of other reasons. Our cosmetic services include repairing damaged or missing teeth, fixing minor cosmetic issue with dental veneers, straightening and realigning teeth using Invisalign and teeth whitening through the Zoom! whitening system.
Our Jacksonville cosmetic dentists work with you to design a smile beyond your expectations. This is what one of our patient's Marsha had to say about us, "What was great was that, Doctor MacK stayed with me the whole time and was like, we're not stopping until you're 100% happy with the way that they look."
Pediatric Dentistry:
---
Your children require special dental care. Our dental professionals have the experience and expertise in gently approaching the oral healthcare for infants, toddlers, children and teenagers. Our dentists make dental appointments for your children safe, fun, and educational. Our goal is to make your child's visit so enjoyable that they will look forward to coming to our office. Our pediatric services include comprehensive exams, child dental cleanings, fluoride treatments and sealants.
Emergency Jacksonville Dental Care:
---
Sometimes life happens and unforeseen events effect our teeth, gums, and mouth. When situations like this do occur, it's important to act quickly and contact our office. Whether you have a sudden tooth pain, a tooth bumped loose, or some other emergency dental situations we strongly advise you to contact our office as soon as possible – (904) 262-2551. Addressing these situations quickly can often result in much better outcomes.
---
Sedation Dentistry:
---
We offer sedation dentistry for those patients with higher levels of dental anxiety and for those who will receive more involved dental services so that we can deliver pain free procedures. One of the systems we use in our office is The Wand. The Wand is an anesthetic delivery device that utilizes a computer system that provides real time monitoring and delivery of anesthesia. This tool allows us to inject local anesthetics with almost no pain and without the use of syringes.
---
The complete dental care our dentist's offer helps us limit and often prevent the need for you having to visit multiple dental offices in Jacksonville, saving you time and money!
Recent Review from our Dentist Office on San Jose Blvd
---
I've been with Dr. MacK for about a year now. Dr. MacK, in the first 15 minutes of meeting him, has done more for me than the last doctors in 15 years. Being complacent with the doc-in-a-box dentist is not the way to go. This is the guy.
-Robert Tedrahn
Dental Services at Our
Jacksonville Dentist Office
---
Same Day
Crowns
Farnham Dentistry offers same day crowns bringing you the convenience of dental crowns in just one office visit.
Learn more..
Dental
Implants
You will be surprised how simple our dental implant procedure is. You will wish you had replaced your missing teeth sooner!
Learn more..
Invisalign
Braces
Looking for straighter teeth without noticeable braces? Give us a call today to schedule your free Invisalign consultation.
Learn more..
Zoom!
Teeth Whitening
Whitening you teeth is one of the easiest and fastest ways to brighten your smile and boost your confidence!
Learn more..

Dental
Bridges
Dental Bridges can be a great choice in replacing multiple missing teeth at one time.
Learn more..
Family
Dentistry
We pride ourselves on offering a relaxing and comfortable experience for you and your whole family.
Learn more..
Botox & Facial Esthetics
Botox is one of the most popular and safest aesthetic treatments for reducing fine lines and wrinkles.
Learn more..
Dermal
Fillers
Millions use dermal fillers to reach their desired facial appearance with a more relaxed and smooth look.
Learn more..
Migraine
Treatment
Botox treatment for migraines brings decreased pain and improvement in function to patients.
Learn more..
---
Why Karen Chose Farnham Dentistry
---
I had not been to a dentist for WAY too long, so after moving to the Jacksonville area, I knew it was time to be a big girl, and work my way back to oral health.
I searched and looked for a few services/ qualities that would make me most at ease before seeing a dentist. The qualifications had to be
"The Wand" anesthesia delivery tool, which did not sound as bad as a shot,
A 5 star rating with perfect reviews, and the CEREC device that made crowns on the spot.
Finally, the biggest requirement was digital imaging that replaced the WORST thing ever… IMPRESSIONS.
I scrutinized the few contenders and ultimately chose Dr. Farnham's team. I'm so glad I did and it was a perfect experience. I entered the "No Judgement Zone"… I was pampered with excellent care, had no pain at all, and was treated with utmost kindness and respect.
They are a hardworking team, and I really mean a team!… In one day, I had a total tooth replacement, no pain, and left with the best Christmas gift of all, a new smile.
I leave this lengthy review because reviews are what brought me to this amazing practice. Thanks so much to the entire team at Dr. Farnham's office! I'm not even scared to come back:)
---
---
Meet Dr. MacKenzie Farnham
---
Carrying on the Farnham Family's Legacy as Dentists in Mandarin FL
---
I'm Dr. MacKenzie Farnham, my patients kindly refer to me as Dr. MacK, and I practice here in beautiful Jacksonville, Florida.
My parents started this practice back in the early '80s, when San Jose Blvd was only two lanes. I loved seeing them work as dentists when I was growing up.
They would always tell me, "Look for something where you can help people, and where you can do what you enjoy." What I've come to learn is that dentistry checks both of those boxes for me. And I've been blessed to have the opportunity to carry the torch.
I truly like dentistry. We're able to take people out of pain, we're able to deliver beautiful smiles. We're helping people every day. It changes their lives.
What Patients Say About Dr. MacK
---
"Dr. Mack goes the extra mile with his treatments and
I never had a dentist that cares like he does." – Richard
"Dr. MacK is kind, courteous and very attentive to detail." – Tyler
"Dr MacK places your concerns right up front, you
are encouraged to be a part of the solution." – Amelia
---
Relaxing Dental Environment in Jacksonville for Your Whole Family Run by Caring and Kind Staff
---
Family Focused Jacksonville Dental Office
---
At some point in your life, you've likely interacted with a rude or belittling healthcare professional. We're different at Farnham Dentistry. Our staff, hygienists, and dentists will treat you with kindness and respect.
This is what one of our patients Susan says about her experience with us, "You couldn't come to an office that's more kind, caring, and treats you with as much dignity as they do here."
Our Jacksonville dentist office is a No Judgement Zone.
We've taken special care in designing a comfortable and safe office environment for you and your whole family.
Work With Your Schedule
---
Your life is busy, we understand! You have a lot of things that need to get done and oral healthcare isn't always easy to fit into your schedule.
That's why we do our best to work out and schedule dentist appointments that are convenient for your schedule.
Trying to schedule appointments for your family? We don't want you to have to make multiple trips. We will find a time that will allow you to bring your whole family at the same time.
Respect Your Schedule
---
It seems that many healthcare and dental professionals punish you if you're late for your appointment, but they seem to feel no obligation to be on time themselves.
Because we ask you to respect and be on time for your scheduled appointment with us, we also hold ourselves to that same expectation to be on time for you.
That's why we've made a commitment to be on-time for our dental appointments.
---
---
Are you wondering, "Where can I find the best dentist near me?" | Conveniently Located Dentist 32223
---
Dentist on San Jose Blvd for over 30 Years
---
Whether you live Mandarin, Loretto, Fruit Cove, Julington Creek, Southside or elsewhere in Duval County, Farnham Dentistry's Jacksonville Dentist office is for you!
Our office is conveniently located 3 minutes south from I-295 on San Jose Blvd making it an extremely convenient location for residents of Southside, Jacksonville FL and Northwest St. Johns County, FL including the following zip codes: 32223, 32258, 32259, 32257.
We understand that many people are hesitant to drive across Jacksonville to see a dentist; however, due to the multispecialty dentistry our office provides, we are often able to accomplish in one visit what other Jacksonville dental offices would require multiple visits for.
And with our focus on easy scheduling and commitment to being on-time for our dental appointments, Farnham Dentistry is a clear choice.
You don't have to take our word for it though, this is what one of our patients Richard has to say, "If you are looking for a great dentist that knows what he is doing, I would give Dr. MacK a shot… There are hundreds of dentists in the Jacksonville area and I have been to a lot in my lifetime and I would recommend Dr. Mack to anyone!"
---
Dr. MacK said to me. Listen, we're going to fix the implant, but not only am I going to do that I'm also going to fix that other tooth for you too and make them match. When he said that to me, I was just like that's impossible. Through their work I can't tell you which one [is the dental implant and which one is my natural tooth] because they match so perfectly. Honestly there is no better treatment that you could get in this area than here.
-Susan Gibilante
---
Volunteer Dental Care in Jacksonville and Beyond
---
Farnham Dentistry is proud to serve our local and greater community through worthy causes that help provide oral healthcare access to those who can not afford or have no available access to dental services.
Sulzbacher Center in Jacksonville FL
Dr. MacK volunteers locally in Jacksonville providing dental services at the Sulzbacher Center. Sulzbacher works to restore self-sufficiency and hope to those suffering from homelessness by empowering them through housing, health, and income services.
---
American Academy of Cosmetic Dentistry's "Give Back a Smile"
---
Dr. MacK participates in the "Give Back a Smile" program whose mission is to help restore the smiles of women and men who have dental injuries due to domestic abuse.
Leland Dental Charity's Mission to El Salvador
---
For the past five years, Dr. MacK has helped lead a mission trip of dentists down to El Salvador every summer. In El Salvador Dr. MacK has been able to provide direct dental care to the local population as well as training on proper oral hygiene care. Even though Dr. MacK is primarily a dentist in Jacksonville, FL he feels it's his job and responsibility to share this information wherever he goes.
---
Focused on Preventive Dentistry in Jacksonville for over 30 Years
---
We're working to get away from single tooth dentistry. Many Jacksonville dental offices work by fixing one broken tooth or addressing one oral problem at a time. Operating this way puts you in a reactive mode.
Our goal is to prevent as many dental problems as we can from occurring in the first place. The best way to do this is to create a healthy foundation for the mouth.
We work to resolve any current dental issues, keep our eye out for minor oral problems before they turn into major one, and equip you with the information and tools you need to maintain a healthy foundation for your mouth.
Doctor MacK paid a lot of attention to detail, and the aesthetic of my smile. I'm a very detail-oriented person to begin with, pretty much a perfectionist, and he was even beyond what I would expect, and that was very impressive.
-Jim Matthews
---
---
FAQs (Questions Our Patients Ask Our Dentists in Mandarin Jacksonville FL)
---
How often should I go to a dentist near me?
---
We recommend visiting Farnham Dentistry's Jacksonville office every 6 months for your regular oral examinations.
If dental problems arise in between your regular visits we recommend calling and scheduling an appointment with our office – (904) 262-2551. Don't put off treating oral problems until your next visit. The faster an issue is addressed the easier it is to resolve.
How to find the best dentist in Jacksonville FL?
---
Are you searching for a Jacksonville dentist? We don't recommend making a rash decision in this process. Do your research and choose a dentist or dental office that you'll be able to make your dental care home for the years to come.
The best place to start researching out various dental offices in Jacksonville will be to read the reviews that patients have written on platforms like Google and Facebook. By reading these reviews you'll be able to get firsthand accounts of other patient's experiences and get a better feel for the various dental offices.
Next, you'll want to make sure that the dental office offers the services that you need now and may also need in the future.
Lastly, don't be afraid to call a dentist in Jacksonville FL and explain that you're currently looking for a dental office. See if you can meet with the dentists and staff before making an appointment. Ask them questions and make sure you feel comfortable at their office. You want the dental office you choose to be a part of your total healthcare team and so it's important that you feel comfortable working with them.
During your search, we hope that Farnham Dentistry will be on the list of dental offices you're considering. We work hard at being the very best dentists in Jacksonville, FL. We feel a deep responsibility to serve our community by aiming to offer you and your family the very best in dental services and patient care.
Give us a call and talk with our staff. Read the experiences our patients have shared on Facebook, Google and PatientConnect.
We look forward to partnering with you and your family to help meet all of your oral healthcare needs.
What is a general dentist / family dentist?
---
A general or family dentist is the term most often used for your primary dental care provider. A licensed general dentist has earned either a DMD (Doctor of Medicine in Dentistry) degree or a DDS (Doctor of Dental Surgery) degree. Both degrees are considered identical with the only difference being some schools offer DDS degrees while others offer DMD degrees.
A Jacksonville general dentist is trained to provide a full coverage of dental care through diagnosing, treating and managing your oral healthcare needs.
What is a cosmetic dentist?
---
Cosmetic dentists are a focused subset of general dentists. Like general dentists, Jacksonville cosmetic dentists have either earned a DMD or DDS degree and will typically have received additional training in specific cosmetic procedures enabling them to deliver services more focused on a patient's aesthetics.
What is a pediatric dentist?
---
Pediatric dentists, like general, family and cosmetic also receive the same foundational education and either receive a DMD or DDS degree from their respective schools. Pediatric dentists then receive additional training in how to make children feel safe and comfortable, guide children's behavior during a dental procedure, and address the unique oral healthcare needs of children.
What is Restorative Dentistry
---
Restorative dentistry is a term that is most often used by dentists and dental professionals as the process of fixing damaged teeth, replacing missing teeth, filling cavities, and ultimately restoring your oral health to an optimal state.
---
I truly like dentistry. We're able to take people out of pain, we're able to deliver beautiful smiles. We're helping people every day. It changes their lives.Dr. MacK
---
Ready to get started?
---
Schedule Your Appointment Today!
Farnham Dentistry
---
11528 San Jose Blvd, Jacksonville, FL 32223
Get Directions
---
Our business hours:
| | |
| --- | --- |
| Monday | |
| Tuesday | |
| Wednesday | |
| Thursday | |
| Friday | |
Book Appointment
---
---
Jacksonville Dentist
was last modified:
December 20th, 2019
by